What Year Was That?
Welcome to Michael & Michael's hyper-super-compressed-concentrated-mini website!
 
Here, you can find all of the essential info, downloads and… info from 'What Year Was That?', plus links to pages with exceptional amounts of unnecessary (yet potentially humorous) rubbish!
 
---
Website Nav:
---
Show Info:
For those who don't know, What Year Was That? is a genius, borderline magical blend of ridiculous comedy, irrelevant facts and all the hits from years past.
 
To put it somewhat more clearly, for each episode we choose a year to cover. We play all of the best music and pretend to be able to reminisce about all of the biggest events from that year, mashed in with a bit of topical ranting, then broadcast it all directly into your life with frequency 90.7FM.
---
Team Info:
» Meet Michael
The Bette Midler-loving half
» Meet Michael
The grammatically-correct half
---
 Latest Podcast: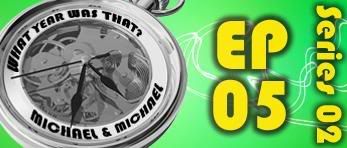 S02E05 – 01 March 2010 – 2006
---